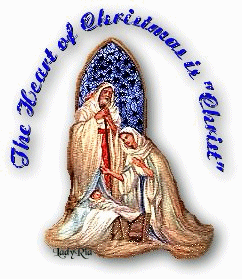 glitter-graphics.com
Hope everyone is having a wonderful day with family or friends or both!
Because of work, DH and I decided to do our Christmas later - we will be going to take some presents for our Lily (2.5yrs) and Logan (11 mos), making a gingerbread house with her...and then coming home before dark.
Had a quiet Christmas Eve...with me baking...used the Long Recipe LOL...DH would bust out laughin every time I would stop and wink!! hmmmmm...now that's not supposed to happen LOL...(for those of you who dont know about the Long Recipe, just check out the Holiday Treat Recipe book on sidebar...and the yummies in there!)
Now, today I did get a big sweet surprise...My secret sister's (from the Designing DIVA's) package arrived today!!! just full of goodies...
Angie, you are so talented and this package was adorable!! love your cards, that little tote purse is sooooo cute and love that little crocheted flower!! your ornament is perfect...and check out the size of that Aero bar (havent had one of those in forever)...it came in the beautiful packaging you see in bottom corner WITH the pinecone!!! love it....and her tags are so perfect!!!

Our DIVA's particpate in challenges that our members provide, and we then were to send them to our Secret Sister...Angie, again....beautiful work...and THANK YOU!

Merry Christmas everyone - it's really all about Jesus!! celebrating his birth and all the blessings we receive from HIM!!!

love and hugs to everyone!! hope sometime during this season, we use our opportunities to tell others about Jesus!
blessings to you,